12 Best Chrome Extensions for SEO
SUSO
25 April 2023
Author: Ewelina Baczek, SEO Specialist
Web browsers are a tool that every SEO specialist uses every day. However, in addition to the primal function of providing search results for a given query, they can carry out additional functions. With the help of appropriate plugins, they can facilitate the work of any specialist by providing useful SEO insights.
This article is a compilation of some of the most popular and useful Google Chrome extensions that, as an SEO specialist, I use daily in my work. These plugins have made my job easier and faster more than once. Whilst the focus of this article is on Chrome SEO plugins, most of these plugins are also available on other browsers such as Mozilla and Opera.
Before I go through my top picks, let's take a look at why you should consider using Chrome extensions for SEO.
Why are Chrome Extensions Important for SEO?
The answer to this question is straightforward – because using them has a lot of advantages. 
Save Time

– SEO plugins can speed up the process of many manual SEO tasks.

Quick Insights

– Get instant insights about pages or websites that you're analysing such as the meta title, meta description, meta robots, or robots.txt status. You don't have to search for this information on the site, check the code, or use other advanced ways. 

Easy to Use

– These plugins provide lots of useful information at the click of a button.
Now, let's take a close look at the SEO extensions themselves.
12 Must Have SEO Chrome Extensions
This plugin is a real must have for any SEO specialist as page redirects can cause a lot of problems. 
The most important thing is to know if there is a redirect on the site and, if so, if it has been implemented correctly. 
Redirect Path is a Chrome extension that will show you if such a redirect is taking place and what type has been applied (301, 302 etc). 
A page without redirect: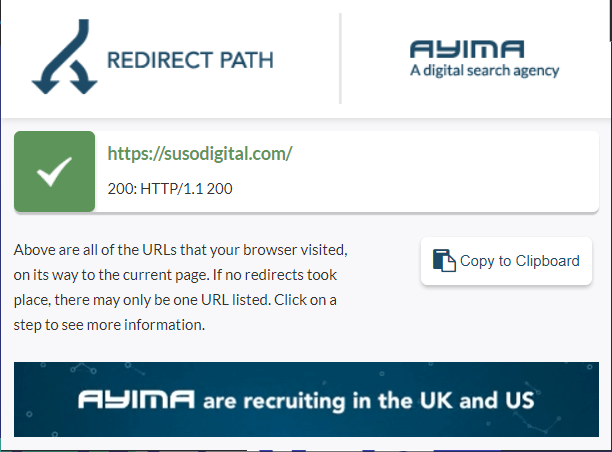 A page with redirect:
We receive information not only about the redirection but also about the status of the redirected page.
Alternatively, you can also use the Link Redirect Trace plugin – it works similarly!
This SEO plugin allows you to quickly find out what websites are built with i.e. WordPress, Shopify etc. This way, it will not be a mystery to you what CMS or eCommerce platform the site uses. 
But that's not all – Wappalyzer will also show you what, for example, WordPress plugins a site has or what framework it uses.
This will be especially useful for technical implementations to know what technology you are dealing with and what type of implementations will be needed for that specific platform or framework.
This is one of the indispensable Chrome SEO plugins. With its capabilities, you can do a lot of work without much difficulty. 
For instance, you can disable JavaScript or popups on a page with a single click as well as clear cookies or disable all styles (CSS).
This Chrome SEO tool has so many uses and options, but one my favourite features is its ability to display all the links on a page:
Or mark all external links:
Web Developer has so many features that it's worth trying and seeing which ones will be most useful to you. 
This extension will help you analyse many on-page elements, such as meta titles and descriptions. The extension will show you the canonical tag, robots tag, and the number of total words on the page:
It also shows:
the entire header structure of the webpage

internal and external links found on a given page

how many images there and whether they have alt text

information about schema markup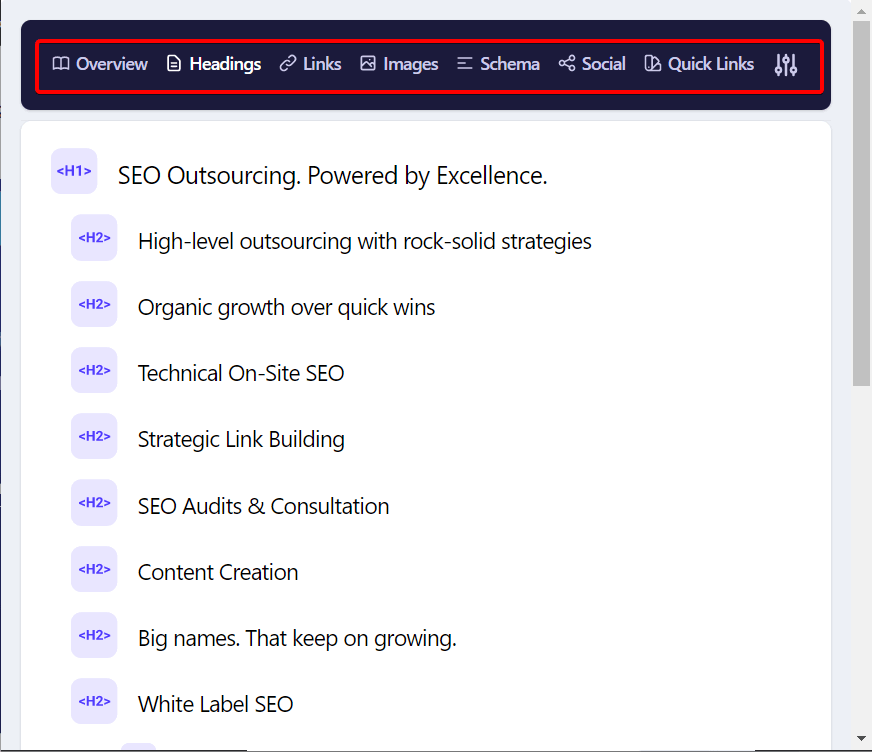 They are helpful when preparing website audits or simple analyses for important web pages on a website.
This Detailed SEO Extension Chrome plugin is one that I use all the time.
This extension helps with analysing and monitoring the robots.txt file of any website.
As you can see, Robots Exclusion Checker also indicates meta robots and X-robots status as well as the canonical status.
I find it very practical that when a site has "noindex" in its status or is blocked in robots.txt, then the plugin icon lights up red – that way, you know right away that the site is blocked!
SEO Meta in 1CLICK is very similar to Detailed SEO Extension. 
The tool provides useful information about a web page including metadata, heading structure, images, links and more.
I recommend focusing on one of the plugins, as using both at once is unlikely.
All you have to do is enable the SEO plugin, refresh the page, and when you click on the icon, you get a message about whether the tracking code is implemented on this page for Google Analytics or Google Tag Manager. 
Moreover, you can also see if the code is implemented correctly.
Another Chrome tool that mainly provides basic information about the site. 
Its main advantage is the fact that it links to Rich Snippet, Mobile Friendly, or PageSpeed tests. 
This way, you don't have to specifically go to these sites with tests and paste the URL of the site you're interested in. Just access it directly from within this qSEO plugin!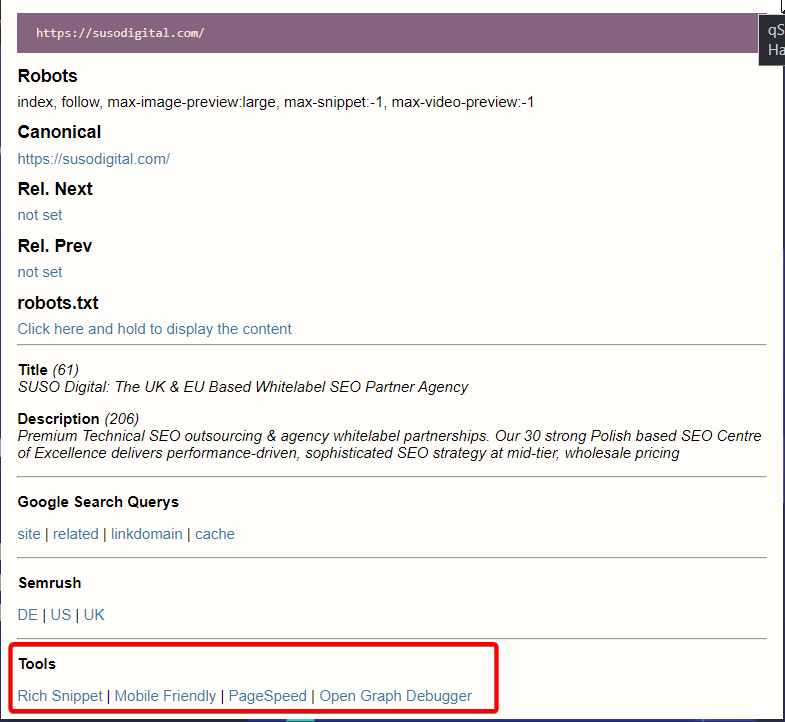 This extension is part of Google's DevTools – another valuable tool for any SEO specialist. The Lighthouse plugin allows the same analysis as the Page Speed test. 
It shows you the page performance of the URL that you are viewing and also provides tips on what to improve to speed up the page.
Many SEO specialists can spend sleepless nights over JavaScript SEO. 
Especially when it is inadequately implemented, resulting in critical elements of the site not being accessible to search engine robots. So it is worth keeping a close eye on and analysing such elements. 
That's where the Quick Javascript Switcher extension comes in. 
Admittedly, we can already disable JavaScript on a page with the help of a Web Developer, but this plugin allows us to freely turn JavaScript on and off to control every single element of the page view.
Thanks to this, you can immediately see what elements have been implemented via JavaScript and what may not be displayed correctly.
This plugin from Ahrefs combines many of the elements already described here. 
In fact, with its help, you can analyse virtually the entire site from many different angles, giving you a picture of what you are dealing with. 
Content, indexability, structured data, social, images, HTTP headers, and outgoing links are just a few factors that the Ahrefs SEO Toolbar extension for Chrome offers.
What's more, if you have an account on Ahrefs, you can log into it, and the plugin will provide you with even more options!
All this is available at hand – very useful in everyday work!
If you're looking for a keyword analysis extension, look no further than Keyword Surfer.
After typing a query into the search engine, the plugin provides expanded results with information such as estimated monthly traffic, number of exact keywords, or website stats.
The tool also provides sample "keyword ideas," which can help prepare keyword research or find new topics for the blog articles.
I highly recommend using this extension for initial keyword analysis!
What is the Most Useful Chrome Extension for SEO?
Trying to answer this question, it's hard to come up with a single answer.
It depends on what you focus on in your daily work and what tasks you often perform. From my experience, plugins such as Detailed SEO Extension, Web Developer, Wappalyzer, or Robots Exclusion Checker are undoubtedly must-haves on the SEO list. 
Without them, preparing an audit or even a simple website analysis would be difficult. The same goes for extensions that check redirects or show other valuable parameters.
Analysing pages and viewing so much content daily, limiting yourself to just one of these plugins, would be difficult.
How Many Chrome Extensions Should You Have or Use?
When it comes to choosing how many extensions you should use, it's worth thinking about how you'll use them. Some SEO plugins may be used every single day whereas others you may not need to use as often.
The best solution is to choose your most frequently used SEO extensions that are most needed and place them on the bar. The rest can be hidden so that they don't lengthen the bar and thus shorten the URL field.
What plugins should you keep? Pick plugins that serve different purposes. For example, you don't need four SEO extensions that check the meta title and description – you only need one. 
Are SEO Extensions for Chrome Free?
The plugins that I have described here are available in free versions. Most don't require purchasing a package to use the functionalities they offer. To be able to analyse pages freely with their help, you don't have to pay for anything. This is undoubtedly a big plus for people who don't deal with SEO professionally but only occasionally would like to analyse their website.
Of course, you'll also find plugins in the Google Store that require paying to show you more helpful information. However, it is unnecessary – all plugins listed here will provide this information absolutely for free!
The Bottom Line
There are dozens of SEO extensions out there, making choosing the right ones that you should use difficult. 
Working in SEO daily and analysing websites regularly, it is impossible not to use the extensions listed in this article. With their help, work becomes easier and faster. 
I built my list based not only on what information these plugins present but also on how easy they are to use. Most of them are so intuitive that anyone can handle them, even without experience. This is the reason why they are so popular!